Global design agencies converged for an evening of creative fun and glamour at The Emirates Stadium on 7 June, as the winners of the prestigious Drum Design Awards were announced.
We're thrilled to announce that we won gold and silver awards for "Best Web Design".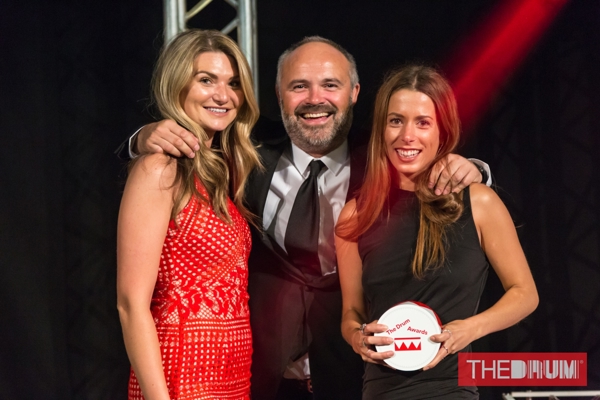 Oona and Simone pictured collecting the award on Thursday
Our winning work was delivered for Belmond in 2017, in the form of an exciting brand revitalisation, digital delivery and data strategy project.
The beautifully crafted website brings together Belmond's global collection of 46 iconic hotels, trains, safaris and river cruises comprising the world's most thrilling journeys and destinations, from the Venice Simplon-Orient-Express to the Copacabana Palace in Rio de Janeiro. The new site gives travellers the freedom to explore and discover Belmond's range of exclusive escapes, enjoying the wonder of the world's most exciting journeys before making a holiday booking.
We also came runner up in the category for the website design of Yachting Partners International - which sets new standards in the international yachting marketplace. The new digital property combines beautiful editorial design with a feature rich tool-kit, which (amongst other things) enables brokers to manage sales, develop bespoke itineraries for their clients and visualise stats across yacht collections.
The Drum Design Awards exclusively recognise and reward great design being produced by agencies worldwide.
This year's awards were chaired by John Mathers (Director of The British Design Fund) and head judge Glenn Tutssel (Head of Brand Inspiration), the panel was made up of some of the most highly regarded talent in the design industry.
Our CEO, Anant Sharma, said:
"We're unbelievably proud of our exceptional design team lead by our Design Director Anna Jehan, and technical teams lead by our CTO, Chris Wilcox who dedicated a huge amount of time and soul into producing a groundbreaking website, helping propel Belmond to the forefront of the luxury hospitality category."
View more of our work here.