This transition offers brands an opportunity to take a step back and scrutinise their longer-term eCommerce strategy – including a critical review of the technology they choose to enable it.
The eCommerce market has never been more competitive
While we've got Covid to thank for this year's eCommerce boom, the legacy of the massive acceleration of digital is an arena full of brands vying for customer attention.
In this ultra-competitive environment, how do brands cut through the noise and differentiate themselves? The foundation for this is always achieved through delivering a fantastic customer experience, something that can only be enabled via robust, nimble tech solutions.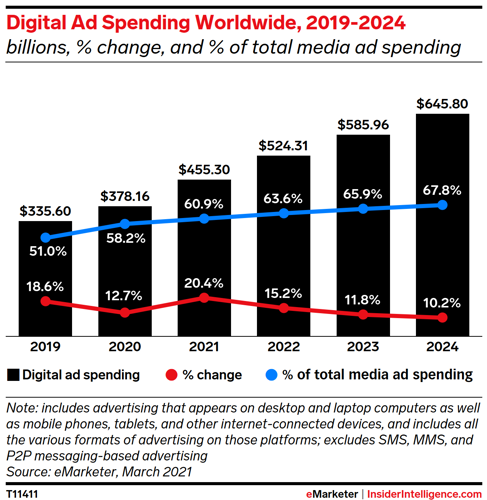 Getting customers attention is a battlefield...
The old approach to eCommerce platforms is broken
Gone are the days of reviewing your eCommerce technology every three to five years.
Now that innovative tech solutions that help to attract, sell to and engage customers are being churned out at a crazy pace, the traditional tech lifecycle is defunct.
So, in order to deliver an experience that exceeds modern and international customer expectations it is critical that brands are agile enough to adopt fresh solutions, fast.
Moving away from the monoliths
Monolithic eCommerce platforms ruled the roost when retail and consumer brands wanted an 'all in one' solution to manage every aspect of their online storefront.
But with this method comes complexity – and that comes at a cost: expensive support, slow and costly changes for bespoke solutions and in-house technical know-how, plus sizeable investment into hosting and security.
But a lack of flexibility has always been the biggest drawback of this approach. It's clear that no single solution will cover the full gamut of what brands now need to deliver and therefore lots of additional customisation is necessary – meaning protracted integrations with other tools to perform tasks outside the remit.
The takeaway? Significant investment into a tech setup that's hard to chop and change no longer makes sense.
Bring on Composable Commerce
In order to better serve customers, lower tech overheads and focus budgets on growth, brands need more agility built into their tech approach.
The tech market has responded with MACH (Microservices, API First, Cloud Native & Headless), a modular architecture that offers the flexibility for companies to better meet their customers' needs. 
In essence, MACH offers a nimble plug and play approach (that's become known as Composable Commerce) that gives brands the flexibility to interchange their technologies easily, without worrying about hosting, support, upgrades and security. 
This allows brands to keep improving and tailoring their tech to meet evolving requirements and deliver a great experience across the entire customer journey.
An approach that suits timeless brands
Matter Of Form works with timeless brands rich in creative spirit that recognise great design as a means of unlocking business value.
Our clients are rarely driven by technical cultures, which makes the Composable Commerce a particularly attractive choice. Why? Because the approach demands less technical knowledge, less development resource and less time - leaving brands free to focus their energies and budgets where they excel and on the activities most likely to grow their business.
Making Composable Commerce work effectively is something that requires expert knowledge of how to connect business and customer objectives to the optimal solutions. But with so many options out there, it can be hard to know where to turn.
Marrying tech with customer experience
When pivoting towards this more modern, fluid technology approach, success is the nexus between customer needs, business objectives, operational requirements and technology choice.
It can be tricky to bring these elements together harmoniously in-house because best practice requires cross-department collaboration and is most effectively actioned with an 'outside in' perspective.
We can help bridge this. Firstly, as a full service, brand-led agency, we understand the needs that exist across different teams and what a great customer experience looks like. Secondly, we have a fantastic grasp of what's what across the spectrum of eCommerce technology.