Visual technology and augmented reality can often seem very advanced and challenging to adopt. How affordable and manageable is a solution like Threekit for eCommerce retailers?
One of our customers, Crate & Barrel, is a large US furniture retailer that wanted to offer their customers a better online shopping experience.
The only issue: that they have hundreds of sofas, each with more than five fabrics, more than 10 colours for each fabric, and even options for legs.
Taking a picture of every potential combination would cost tens of millions of pounds.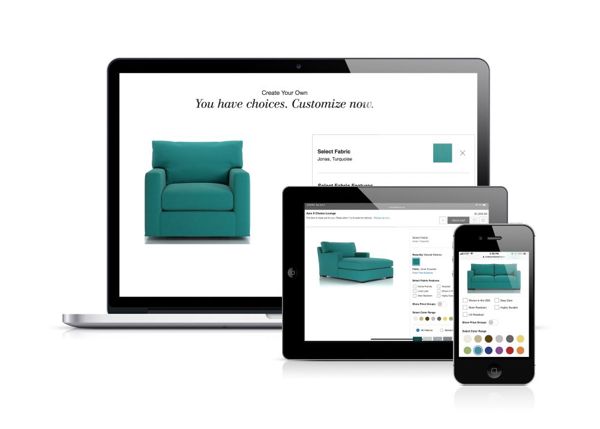 Threekit was able to render more than three million hyper-realistic photos for Crate & Barrel at a fraction of what studio photography would have cost. Additionally, they can now simply implement augmented reality because we have their models on the Threekit platform.
Much research suggests that shoppers turn to eCommerce to make their purchases, but many of them also like to touch and feel their products before making a purchase. How does Threekit help on this front?
Five years ago, not many people were buying quality furniture online because they wanted to be able to touch and feel it. But things have changed and will continue to change. With better visuals people will be open to buying a lot more products online. We have the ability now to create much more dynamic visuals that build trust in shoppers.
"We have the ability now to create much more dynamic visuals that build trust in shoppers."
How does Threekit stay ahead of the game? How do you research and develop to cater to your client's ever-growing needs and expertise?
The first and most important way we stay ahead of the game is by listening religiously to our customers, partners, and prospects. We work across furniture, luxury, apparel, manufacturing and more and these conversations help define our roadmap and help us build the future of the visual economy.
We are also part of the Khronos Group, together with a lot of other companies (IKEA, Samsung, Facebook, Google, Amazon, Target). The group discuss where the 3D market is going and how we can shape the technology for it.
What makes Threekit unique to its competitors?
Most eCommerce companies are still using product photography or one-off 3D-designers. This makes sense if you only have very few product combinations.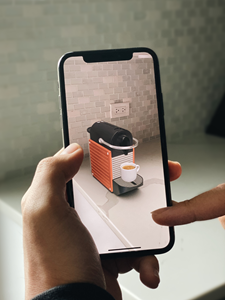 Once you start talking about many more product combinations or customisation, it starts becoming really difficult to manage with photographers or designers alone. Threekit enables brands to visualise and maintain their products themselves -- they have full control to simply update and make changes on the fly.
What does the future hold in store for Threekit?
We just raised $20M in Series A funding. This will allow us to continue improving our platform as well as undertaking more sales and marketing to get the word out!
Anything else our readers should know?
For anyone interested in a small sample of what we do, we currently have an offer where companies can submit links to product images and we will render it in 3D or in a hyper-realistic image. Check it out here.
---
We are very excited to be hosting an exclusive roundtable breakfast in partnership with Threekit as part of our Retail Therapy Series. During the breakfast, we will be exploring the explosive growth of visual technology and how businesses can exceed customers' visual expectations through augmented reality/3D technology online.
The breakfast will be held at The Ivy Victoria on Tuesday 4th February. Register your interest in attending via email to events@matterofform.com - places are limited.
---
If you wish to discuss the content or hear our thoughts on how to put some of our insights into action, please get in touch via hello@matterofform.com and we would be delighted to have a chat.
About Matter Of Form Group
Established in 2018, the Matter Of Form Group is a collection of four award-winning agencies united and bound together by a common set of ideas and values centred around the mantra 'Make Change Effective'.
The group consists of Matter Of Form, FORM Commerce, Diffusion Digital and Experience Haus with clients spanning the property and real estate, retail, travel and hospitality, wellness, lifestyle, third sector, B2B sectors and beyond. Some of these brands include Aman Resorts, Belmond, Cadogan Estates, Corbin and King, Landmark Properties, Mary Katrantzou, Monique Lhuillier, Shanghai Tang, Shangri-La, The Rug Company, UNICEF, World Economic Forum, Karen Millen, Breitling, Savitri Foundation, Joel Robuchon, Lindblad Expeditions, The Collective, The School of Life & Thanos Hotel Group.
If you'd like to discuss how the Matter Of Form Group partner to provide strategic design and tech services, please get in touch via hello@matterofform.com to arrange a time to speak with our team of consultants or visit www.matterofform.com.For Press and Media enquiries, please contact Emma Blackmore, Group Marketing Director: emma@matterofform.com.